Quality Pembroke Welsh Corgis bred & raised in home to offer exceptional puppies to discriminating families.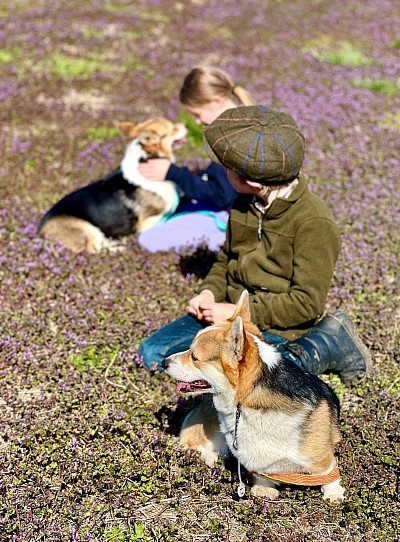 Welcome to Pine Lane Pembrokes, home of exceptional AKC registered Pembroke corgis for discriminating families. 
Our corgis are raised in a home environment where they are welcome inside the home as well as having full access to large yards and a kennel area as needed. They do chores with me daily, being exposed to poultry, cats, sheep, cattle and horses.
Though we have & will continue to produce champions our main focus is to produce beautiful quality, happy, healthy puppies with exemplary temperaments. All puppies are raised exclusively in the home with other pets as well as children. This enables constant observation of their developing personalities & insight can be provided in obtaining the best match for your families situation. Due to the nature of how they are raised many of our puppies are potty trained when they leave our home and all have a good start. To reduce stress for puppy & their new family all puppies are also well started on crate training when they leave our home.  All dogs are health tested and guarantees are provided for all puppies. Upon retirement from breeding we do occasionally offer spayed/ neutered adults to approved homes.
Whether here or in a new home all parents to the puppies we produce are ensured they will live out their natural lives in a loving home environment.
If you feel we are what you may be looking for, feel free to give me a call and we'll chat! Text and email are also welcome, as are occasional visits. 
Kind regards, 
Brenda 
Pine Lane Pembrokes 
9183418167